Narrowing down this list of amazing Kamloops restaurants wasn't easy, but I stand by my choices!
Seriously though. One of the many reasons why people love living in Kamloops is because there are so many tasty spots to grab a bite! From breakfast to dessert, from lunch on-the-go to date night, there's a perfect Kamloops restaurant out there for every meal.
And the number of great places to eat in Kamloops continues to grow each year! As a Kamloops REALTOR®, I'm constantly impressed by the city's growth, and the foodie community is no exception.
While avoiding eating out all the time is one of my top tips for saving money, I still think it's important to treat ourselves every now and then! And in my opinion, if you're going to do it, do it right by choosing an eatery that never fails to impress.
You'll notice that all of the places listed are local Kamloops restaurants, because that's what I prefer! I do think it's important to support our local businesses when we decide to splurge, and besides, the local experience is a tough one to beat! 😉
Amazing Local Kamloops Restaurants
If you're looking for the best places to eat in Kamloops, start with this list of 10 must-try Kamloops restaurants! 
1. Peter's Pasta: Great For Every Occasion
Peter's Pasta is a family-owned restaurant in downtown Kamloops that first opened in 1986. Today, it is run by an amazing husband and wife team—Nicole and Barry—who took over the business from Nicole's parents. 
My partner Cody and I started going to Peter's Pasta around five years ago. We go each year now for our anniversary because it has everything that I love! The Seafood Saffron and Seafood Alfredo are my favourites, complete with an Angry Orchards Cider! And Crème Brûlée for dessert, of course. 
View this post on Instagram
Nicole and Barry are so lovely—they know our orders every time that we visit! 
While Peter's Pasta is one of my date night go-tos, it's also one of my favourite family-friendly Kamloops restaurants. They even have a kids pasta menu!
Currently they're also offering take & bake options so that you can enjoy their delicious pastas at home. 
Hungry yet? We're just getting started!
2. Lee's Garden: The Best Chinese Food in Kamloops
Lee's Garden opened in 2004 by the Li family, who has been preparing some of the most amazing Chinese food in Kamloops ever since! 
This is hands down my favourite Chinese food restaurant on the planet. I used to work there when I was in high school, so I might be a bit biased—that being said, Cody never liked Chinese food before he tried Lee's Garden, and now he's hooked! So if you don't want to take my word for it, you can take his.
I'm still fairly close with the owners and it's always so nice to see them. And, of course, the food is so good. Everything is fresh and homemade. BRB, ordering egg rolls.
3. Passek's Classic: Tasty Kamloops Breakfast Spot
Passek's Classics Restaurant and Bakery is a local fave! It's original location was a real hole in the wall, but they've recently moved in 2020 to a new spot on Victoria Street.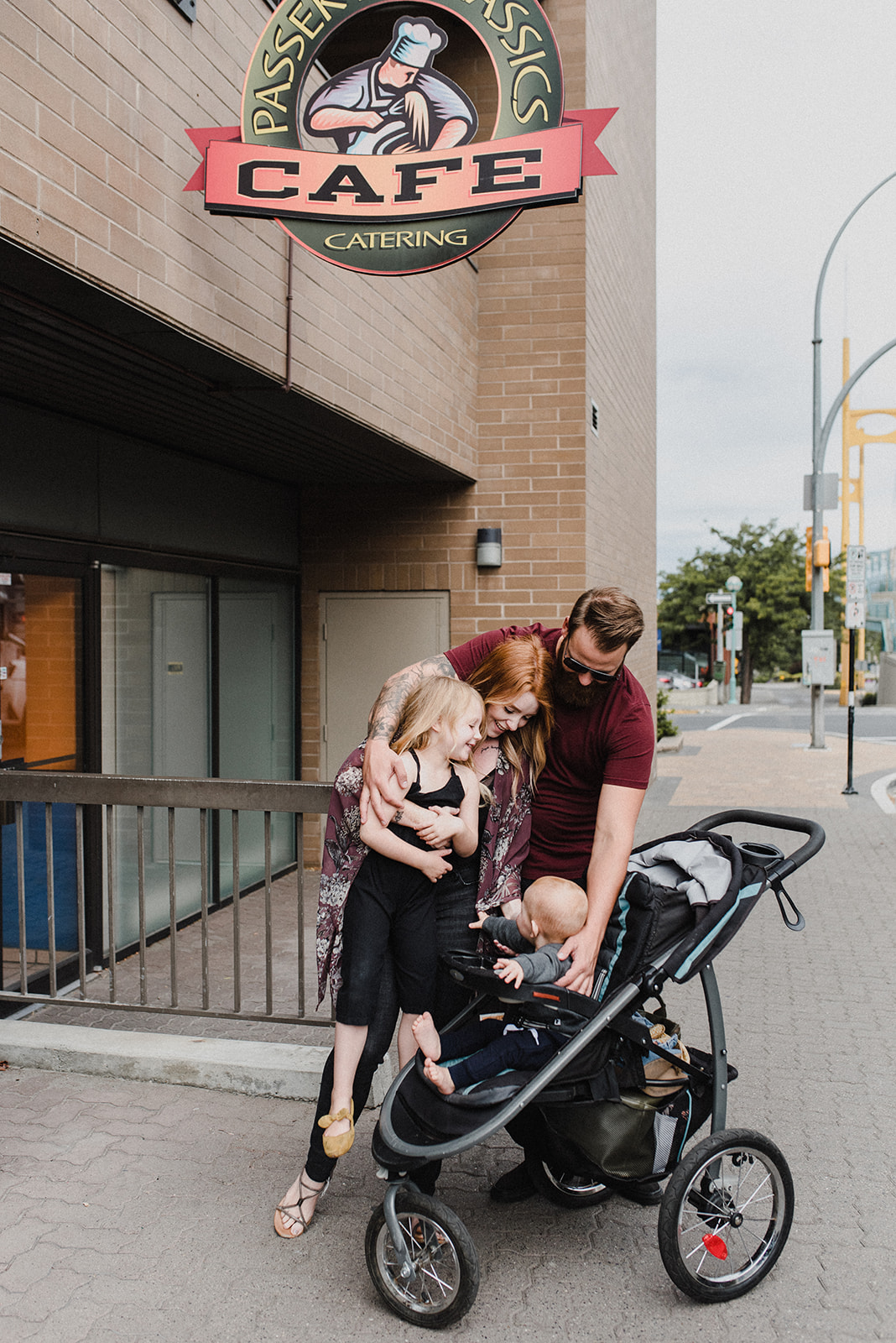 Passek's uses fresh ingredients and smokes all its own meats in-house. Everything is made fresh daily, including the bread. The restaurant also has German influences so if you're looking for schnitzel or split pea and ham soup in Kamloops, this is the place!
I've been visiting Passek's for almost three years now. I was first introduced to it when I went there for breakfast with a friend, and I was hooked! It's one of the best eggs benedicts I've ever had. My partner, Cody, gets the brisket eggs benny every time that we go and it never gets old!
View this post on Instagram
They also have a great lunch menu, but we are big breakfast people. If there's a tasty benny on the menu, you know I'm going for it!
4. The Smorgasbord: A Quick Kamloops Lunch Classic
If you're craving a hearty soup-and-sandwich kinda lunch in Kamloops, look no further than the Smorgasbord! 
The Smorgasbord is one of my all-time favourite places to grab a quick lunch in Kamloops, and I've been going for about five years now. I started going here because it was right around the corner from where I worked when I first got my real estate license. 
View this post on Instagram
It has the best sandwich bar, fresh-made cheese biscuits to go with your soup (I've literally had dreams about them before), and cookies the size of your face. They also have a cute garden centre in the building which is a perk for me. If you know me, you know I love my plants! 
In case you're not still not convinced—the first time that Cody ordered a sandwich at Smorgasbord, he went right back in to order a second. Yup.
5. Mittz Kitchen: Upscale Casual Dining in Kamloops
Mittz Kitchen is another downtown Kamloops restaurant delight! Run by the Mitton brothers and Chef Dave Rempel, I think it's safe to say that Mittz Kitchen is one of the most innovative and unique places to eat in Kamloops. 
View this post on Instagram
This foodie heaven is the perfect place to take a date in Kamloops or enjoy a few libations and some tasty eats with friends. There are definitely some more unique items and ingredients on the menu, but every time that I veer out of my comfort zone a little to try something new, I always love it! 
The chef is amazing and it's a great place to eat if you're looking to mix things up a bit and try something new. Oh yeah, and do yourself a favour and get the Cauliflower Bites.
6. Watercress Vietnamese Restaurant: The Best Kamloops Pho 
In my opinion, Watercress Vietnamese Restaurant on Kamloops' North Shore has some of the best pho in the city! 
It's just so tasty. Whenever I find myself craving a warm comfort meal, Watercress always pops right into my mind. I also love that it's small and not super busy (almost debated keeping this Kamloops hidden gem to myself! 😉). But nope, it simply has to be on the list! 
View this post on Instagram
A funny story about Watercress: One of my business partners from my financial advising business was visiting from Calgary, and I took him to Watercress for pho in Kamloops. He mentioned that it reminded him of a Vietnamese restaurant that he loved in Calgary. It turns out that the owners of the two restaurants are actually related! Talk about a small world and a killer family recipe.
7. Spice of India Cuisine: Great Indian Food in Kamloops
Sometimes, you just have a craving that only delicious, authentic Indian food can satisfy. Whenever that craving hits, I head straight to Spice of India in Kamloops. 
View this post on Instagram
Located on the North Shore, Spice of India is a go-to Kamloops restaurant for all things Indian food. Cody had his first butter chicken here (I know, he was missing out for a long time) and I think it may have changed his life a little bit.
No matter what I order, I always treat myself to a side of butter naan and pakora. Yum. 
8. Hello Toast: Trendy Breakfast Restaurant in Kamloops
Hello Toast is arguably one of the most popular restaurants in Kamloops. It's a funky and unique spot in downtown Kamloops with a cool vibe and tasty food. They have amazing food and they sell and display all sorts of local art and crafty things by local artisans, so there's always something interesting to look at (or shop for) while you're waiting to order! It kind of reminds me of being in downtown Vancouver.
View this post on Instagram
It's so popular, in fact, that you should be prepared to have to wait a bit to get a table. But if you have the time, it's worth it! 
Hello Toast is all about those tasty breakfast and lunch dishes and sources local whenever possible. You already know I'm a sucker for eggs benny, and theirs is a win every time. Plus, anywhere that serves all-day breakfast gets an extra point in my books! 
9. Sushi Plus: The Best Kamloops Sushi Spot
If you're looking for sushi in Kamloops, I seriously recommend Sushi Plus! Sushi Plus is a really small Japanese restaurant uptown. I feel like it sometimes gets overlooked, but it's definitely on my list of must-try Kamloops restaurants! 
View this post on Instagram
It's authentic and fresh, which is exactly what you want when you're craving sushi! I really love their crispy rolls with all that crunchy yumminess on top. Oh, and a side of spicy mayo, please! 
10. Hop 'N' Hog: Barbeque Heaven!
Okay, I'm cheating a bit with this one because Hop 'N' Hog isn't in Kamloops. But I still wanted to include it on the list because it's so dang good and we will drive 1.5 hours to Clearwater just to eat there! 
View this post on Instagram

It can be tough to find good BBQ, and Hop 'N' Hog is a tough one to beat. The owner travels around the US to get new recipes, tips, and tricks in the off-season. Now that's dedication! 
It's a seasonal restaurant, so make sure you check to make sure they're open before you visit!
Which Restaurants in Kamloops Would You Add to this List?
What are your favourite Kamloops restaurants? I would love to know! 
Looking for more local Kamloops goodness? Check out my other blog articles and follow me on Instagram!