If there are two things I absolutely LOVE (besides my famjam and Kamloops real estate), they've got to be supporting local Kamloops stores and finding fun new items for my home! 
Supporting local shops and restaurants in Kamloops has always been important to me. Not only do these small businesses need us now more than ever, but the quality of the products and customer service simply can't be beat. 
And, since we've been living in our new home while renovating it, I've been on the hunt lately for fun new home decor, accessories, and—of course—houseplants! 
Luckily, there are a few amazing local stores in Kamloops that never disappoint when it comes to decor, plants, and other knick knacks that make great gifts (whether you're treating a friend or yourself!). It's one of the many benefits of living in Kamloops and I love watching as these small local shops continue to grow.
Best Kamloops Stores for Decor, Gifts, Plants, and More!
From natural beauty products to jewelry to tasty treats to cute decorations, you're sure to find something you love at one of these local Kamloops stores! 
1. Real Deals Kamloops
Holy Crap! Real Deals in Kamloops is a decor enthusiast's dream! I am in awe every time I walk in there and have a hard time not walking out carrying the whole store with me. 
View this post on Instagram
I recently purchased a bench from Real Deals for our foyer (once it's done being renovated) and I am so excited about it. Renovation pro tip: Buying something fun for your new space can be a great motivator to get it done faster! 😂
If you're looking for some new furniture or home accessories, I seriously recommend checking this place out. They have everything from pillows and novelty decor to chairs and coffee tables.
2. Crooked Crown Kamloops
Crooked Crown is probably one of the most popular downtown Kamloops stores.
It's such a cute little shop on Victoria Street, and the owner, Emily, is just the sweetest. She hand picks everything she brings in and the care she puts into it really shows! It's perfectly curated and they have a great variety of items. 
View this post on Instagram
Handmade charcuterie boards, personal care items, unique treats, adorable hats, delicious candles, fun decor…no matter who or what you're shopping for, you'll find something perfect at Crooked Crown in Kamloops!
3. Agri Supply Kamloops
If you know me, you know I love my garden and houseplants! Agri Supply in Kamloops always has unique plants and cute garden decor that I just can't get enough of.
View this post on Instagram
Agri Supply has been serving the Kamloops community for over 30 years. They also carry items for farm supplies and beautiful cut flowers. 
If you love plants, this Kamloops store definitely needs to be on your list!
4. Fern and Frond Kamloops
Another one for the flower lovers out there: Fern and Frond!
Fern and Frond is a wedding florist in Kamloops, but it's also my go-to whenever I need to get some flowers for a special occasion (or just because!). 
View this post on Instagram
The owner, Chelsea, is so sweet and she has the most stunning taste for arrangements. They just look so much more gorgeous (and last so much longer) than the cheaper bouquets you'd  pick up at the grocery store. The difference is clear, and trust me, worth it!
5. Far & Wide Kamloops
Another really popular local Kamloops store, and one of many reasons to love downtown Kamloops, is Far & Wide.
If you're from around Kamloops and haven't heard of Far & Wide yet, I would be shocked! I believe this store has been one of the busiest locally-owned stores in the last few years and I love that the owners, Brianne and Cali, are big supporters of other local entrepreneurs. 
View this post on Instagram
Far & Wide Kamloops is an absolute pleasure to peruse and they sell everything from home decor to gifts to jewelry and much more. I never walk out empty handed!
6. The Botanical Scene Kamloops
The Botanical Scene in Kamloops is the sister store to Far & Wide. This local store in Kamloops just opened and is already a huge hit!
View this post on Instagram
Far & Wide used to carry tons of plants, but it got to the point where they had so many, they decided to open a new space dedicated to my little green loves! Personally, I'm all for it. They carry an amazing variety of plants (common and rare), pots, and other plant-related home decor. 
If you're looking for indoor plants in Kamloops, The Botanical Scene is the place for you. 
Which Local Kamloops Stores Are Your Favourites?
Now that you know mine, I'd love to hear more about yours! Let's keep supporting local businesses and encouraging Kamloops to continue to grow and thrive.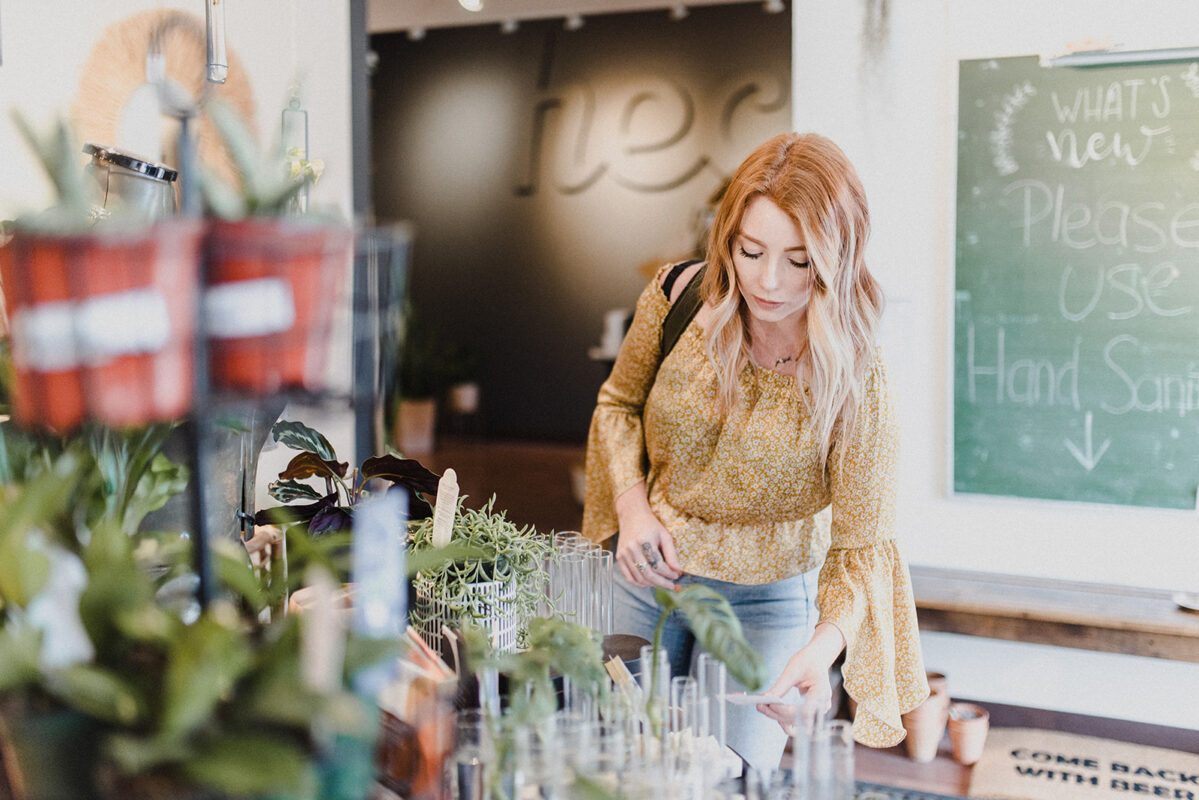 Leave a comment under this blog with your favourite local stores in Kamloops, or follow me on Instagram and send me a DM or leave a comment to let me know!