Is owning an Airbnb worth it? Many Airbnb hosts would agree that running a successful Airbnb is totally possible…as long as you do it right!
So you've researched the laws and regulations regarding Airbnbs in your area, purchased your Airbnb property, and read up on the basic requirements of Airbnb hosts. Now what?
Well, the next step is to get your property in tiptop shape! It's important to make your rental property as appealing and comfortable as possible (and to showcase this on the Airbnb website) to increase your chances of profitable bookings and positive reviews.
When it comes to what to charge for your Airbnb, there are many contributing factors. The location, access to parking, amenities, size, etc., but these things aren't always in your control. However, some things that are in your control—to an extent, at least—are how nice your Airbnb looks, how comfortable it is, and how you showcase it.
Here are some tips that successful Airbnb hosts implement to help get the bookings rolling on in!
1. Spruce up your Airbnb with fresh paint and new furniture
If your walls look dingy or your furniture is outdated and raggedy, it's going to lower the appeal (and therefore the value) of your vacation rental.
It's not uncommon for new Airbnb hosts to add a fresh coat of paint, and to do touch ups as needed. Fresh paint can make a huge difference in any space and is almost always worth the investment.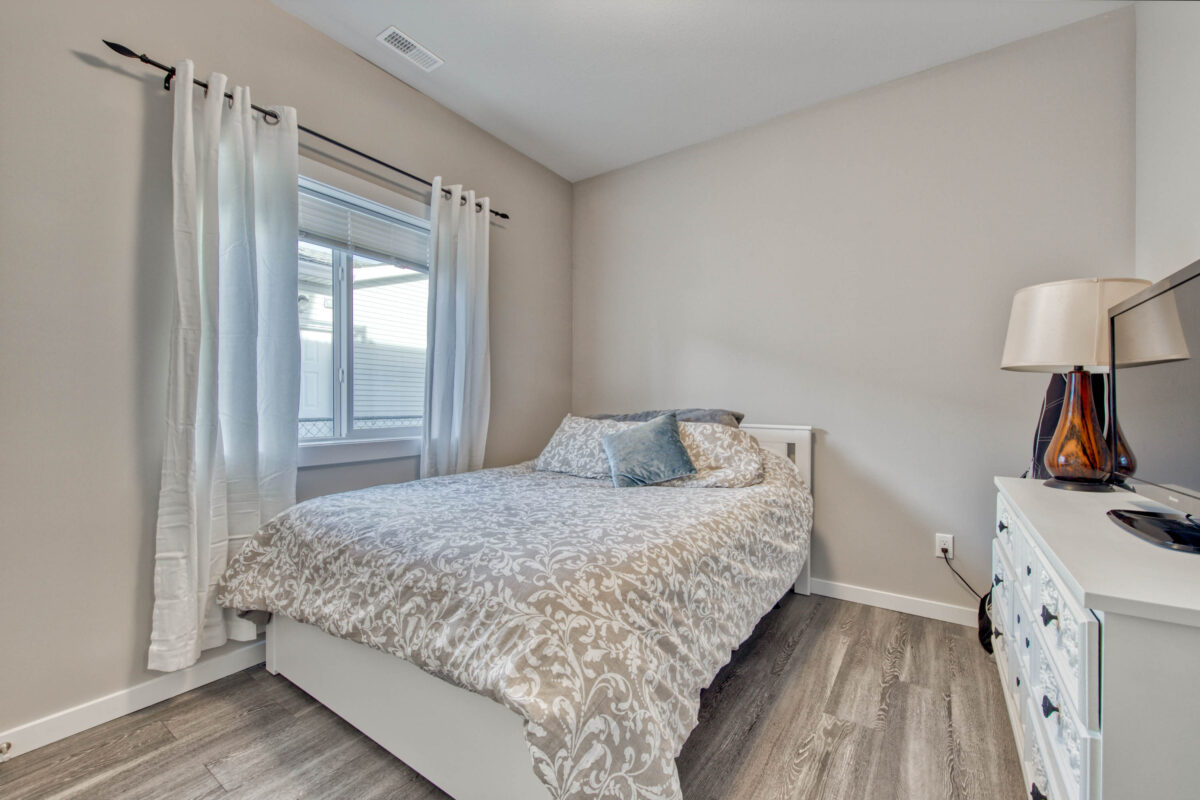 It's also a good idea to invest in some nice, new furniture. Go for pieces that are functional, appealing, easy to clean, and that work nicely in the space. It doesn't have to be anything crazy expensive—keep your eyes peeled for good deals or check out liquidation stores.
Many Airbnb owners choose to stay fairly neutral with furniture and decor, selecting pieces that are trendy but not too loud, and likely to appeal to a variety of people.
However, some Airbnb hosts like to go for a theme that matches their property. For example, if your Airbnb property is a log cabin, why not embrace the cottage core aesthetic and make it super cozy? If it's an apartment in the city, go ultra-modern, clean, and minimalist. If it's a cute home, choose furnishings that complement its character and add a nice hygge feel.
2. Stage your Airbnb nicely
If you've shopped for a home before, or looked at vacation rentals, you're probably aware that staging can make a big difference.
So when getting your Airbnb ready for photos, pretend you're a Realtor trying to sell a home. Get rid of any clutter, put out some tasteful decor, and make the space look nice and welcoming.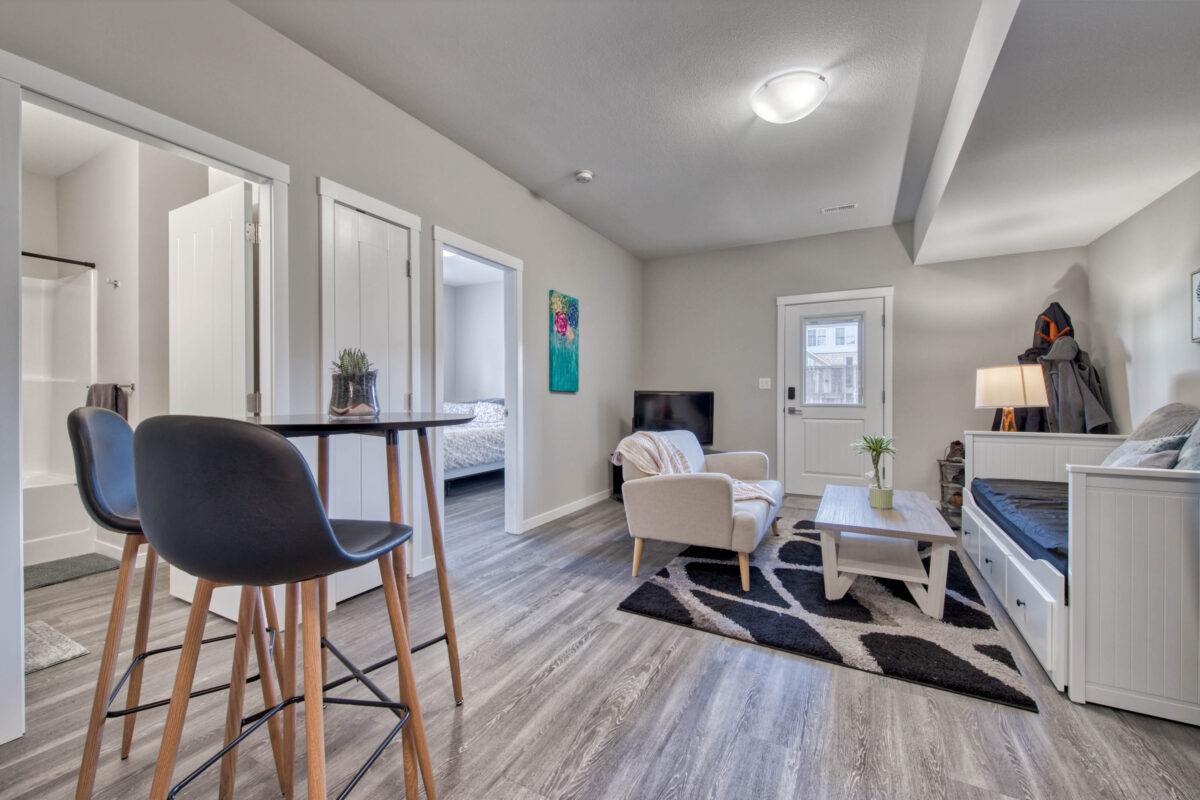 Another important element when it comes to staging your Airbnb rental is the lighting. Use windows and natural light to your advantage, and make sure each room has warm, soft, flattering lighting. Use lamps to brighten up dark corners and avoid anything too fluorescent. If you feel like you're in a department store, you're doing it wrong!
3. Make sure heating and cooling is accessible in your Airbnb
As an excellent Airbnb host, it's so important to make sure that your guests are comfortable.
Temperature has a huge impact on comfort, especially if your location gets really hot or cold (or both, if you're up in Canada, like me!). Many people won't even consider booking a vacation rental without air conditioning in the summer, or without proper heating in the winter.
Make sure that the heating and cooling amenities in your Airbnb are clear in the description. It's also a good idea to have a couple of fans and cozy blankets available in your Airbnb in case your guests require a little something extra to stay comfortable.
4. Clean, clean, clean
There's nothing worse than showing up to your vacation rental and feeling like it's just not clean.
Your guests are here to relax, and cleanliness is something they will expect from their Airbnb experience. So, making sure that your Airbnb property is sparkling clean is not only important for your photos, but for in between guests as well.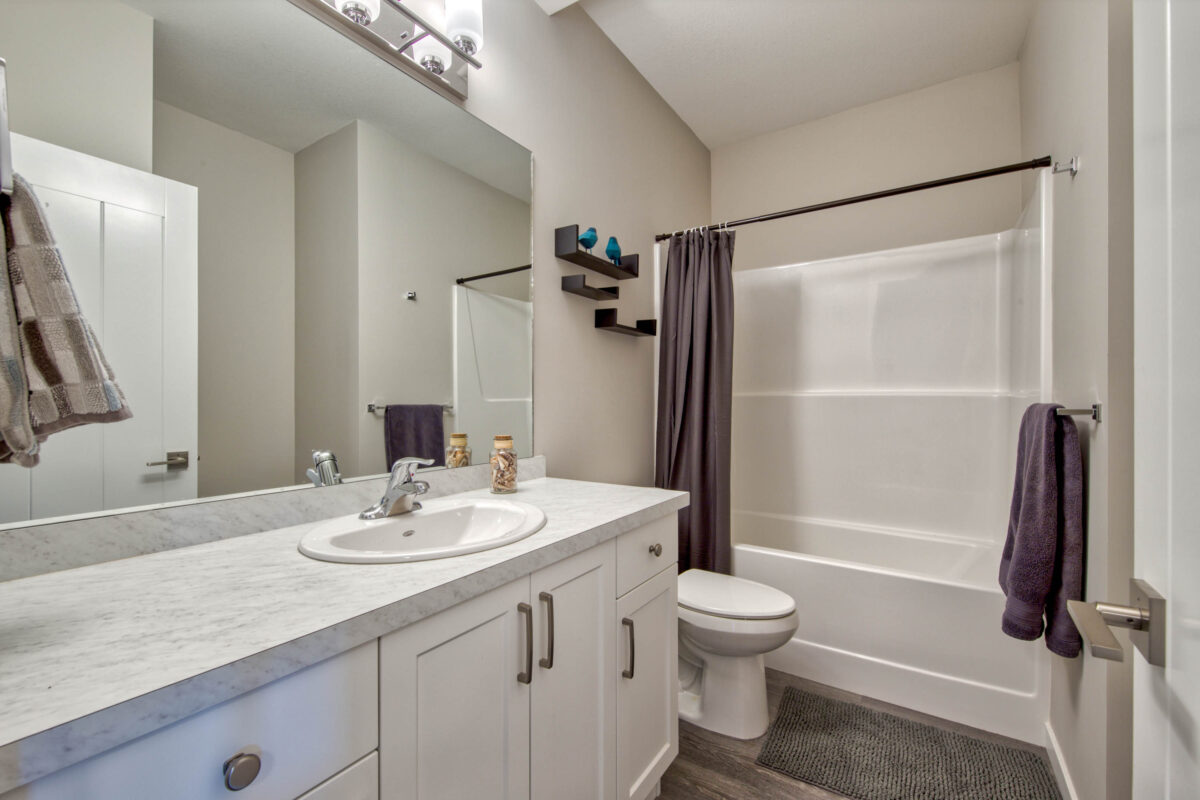 Sparkling reviews require a sparkling space, and great reviews are essential to becoming an Airbnb Superhost (a coveted title for Airbnb hosts that often increases your chances of getting bookings!).
Not able to thoroughly clean your Airbnb property between guests? That's okay! Many Airbnb hosts will hire cleaning services to make sure this is taken care of.
5. Pay for professional photos of your Airbnb
Most humans are visual. They like to see what they're going to get before booking an Airbnb rental. You can spend lots of time, money, and effort making sure that your Airbnb looks amazing, but if your photos don't do it justice, it could be all for naught.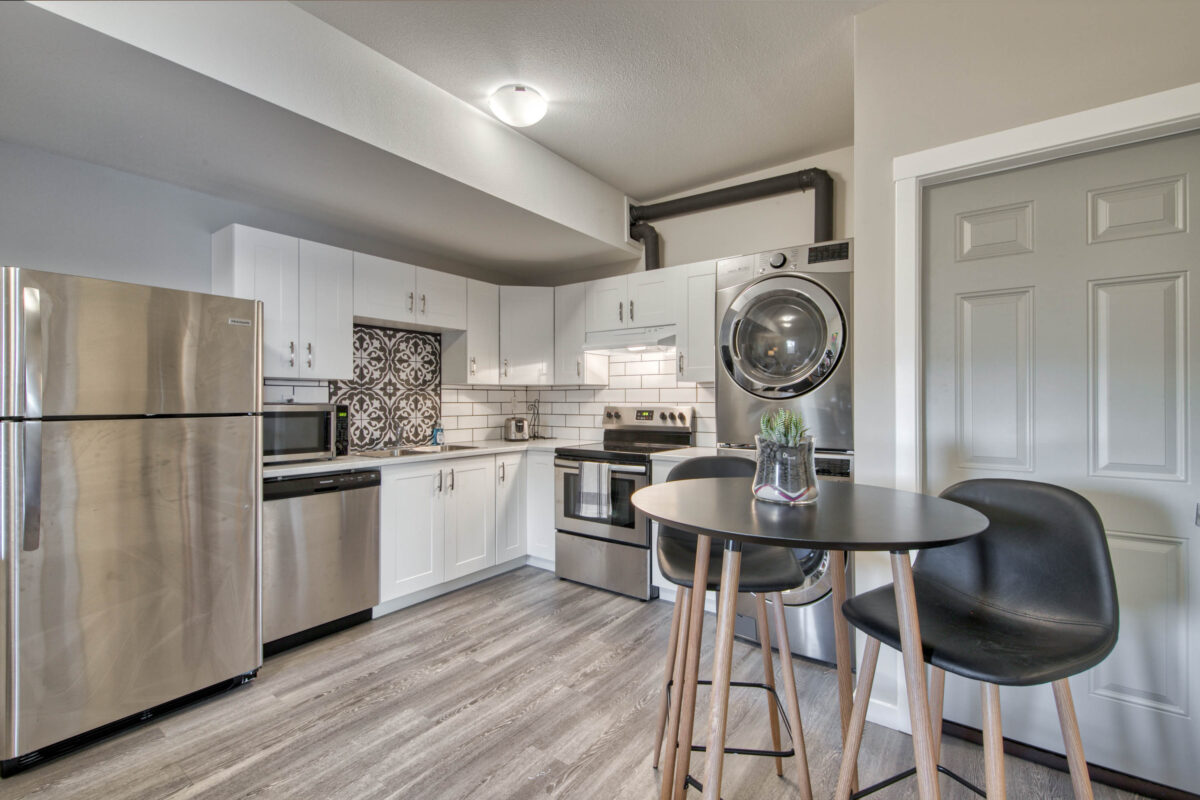 Many successful Airbnb hosts will pay for professional photos to ensure that their rental property is being properly showcased. Capturing the true vibe of a space without the right gear and knowledge can be challenging, and your cellphone camera just might not cut it.
It's important that your photos capture both the general space and any amenities included. Ask your photographer to snap photos inside the (well-organized) kitchen cupboards and drawers to show what accessories are available. Make sure you have photos of any other desirable amenities like bathtubs, hot tubs, barbecues, laundry, patios, yards, games, electronics, air conditioning, gyms, pools, parking, toiletries, etc.
6. Airbnb hosts should add detailed descriptions of their property
Now that your Airbnb is spruced up and you have photos to prove it, it's time to list your Airbnb.
Along with great photos, it's important to add a thorough description of your Airbnb property with as much detail as possible.
Some important things to mention in your Airbnb listing description include:
The number of bedrooms, beds, and sizes of the beds
The number of bathrooms
Short description of all the rooms
Kitchen amenities and appliances
The general location, distance from popular attractions and how to access them (by foot, bus, train, car, etc.)
Parking
Laundry facilities
Access to any other facilities (ie. pools, gyms), especially if in an apartment complex
Outdoor spaces
Any special amenities or added comforts
Some other tips for writing a great Airbnb description:
Speak to your ideal guest. Who do you think would benefit most from staying at your Airbnb? Think about this as you write your description. If you're renting out a chalet on a ski hill in a small town, you might use different language than you would for a studio apartment in the business centre of a big city. Depending on your property and ideal audience, you may want to incorporate some cheeky humour. Or, you may want to keep it super profesh.
Write a great title for your Airbnb listing. Make sure your title is accurate and interesting, offering the most important information right away while speaking to your audience. Use all 50 allotted characters and try to incorporate something that makes your property unique. For example:

Luxurious Apartment in the Heart of Downtown
Peaceful Haven: Cozy Cabin Surrounded by Nature
Romantic Couples Getaway w/ Private Hot Tub & View
Modern Beach House w/ Pool – Walk to the Beach
Spacious Ski-Out Chalet Perfect for Family Fun

Use effective adjectives to describe your property. Now isn't the time for modesty! If your property is in an incredible location, say it. If it has breathtaking views, let people know. Just make sure your description is accurate as you don't want to overpromise and underdeliver.
Make it detailed, but not too long. You don't want to risk losing people's interest or overselling the place.
Running a successful Airbnb
Alright, awesome Airbnb hosts! I hope these tips help you in your mission to run a profitable Airbnb business. You got this!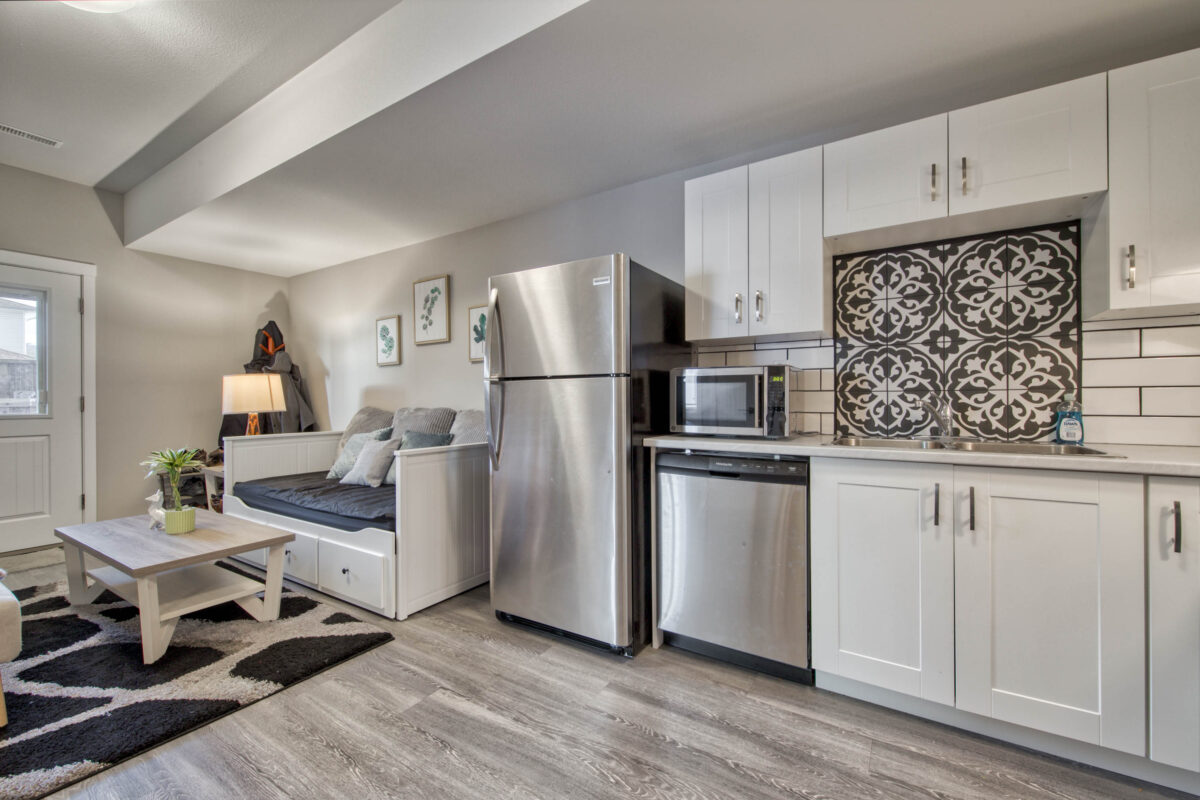 If you're interested in buying an Airbnb property in Kamloops or the surrounding areas (or any property in Kamloops for that matter), I would love to help! As a Kamloops REALTOR® and financial educator, helping my clients find the perfect property and build a strong financial future is my jam. Let's chat so we can discuss your goals and get you on the right path!
Follow me on Instagram for regular content about finance, real estate, investments, renovations, and the Kamloops area!
Disclaimer: this advice is all a matter of opinion and each individual should speak with a professional before making important real estate decisions. Every case and situation is unique!
What's the difference between a real estate agent and a REALTOR®? Visit CREA.ca/why to find out.