If you're looking for Kamloops real estate, you should look at all neighbourhoods in Kamloops to figure out which area you'd like to call home.
There are plenty of reasons why people love living in Kamloops. Small town charm with big city amenities, a vibrant city centre nestled in a natural landscape, a tourist destination with a strong sense of community—and several different neighbourhoods to choose from, each with its own unique appeal.
Neighbourhoods in Kamloops are diverse, and there are amazing property options for every lifestyle. Knowing the differences between the various areas of the city before investing in Kamloops real estate will help ensure that you make the right choice for you and your family! I also recommend working with a reputable Kamloops Realtor to help reduce stress during the home buying process and answer your real estate questions.
Aberdeen
Aberdeen also includes Dufferin and is found on the south side of the valley. Pineview Valley is nearby, just to the west and above Aberdeen.
Aberdeen —a hillside community bordered by Highway 5A and the Trans Canada Highway—is one of the neighbourhoods in Kamloops at a higher elevation, so it tends to experience cooler temperatures than other areas of Kamloops throughout the year, and also boasts some pretty amazing views of the valley.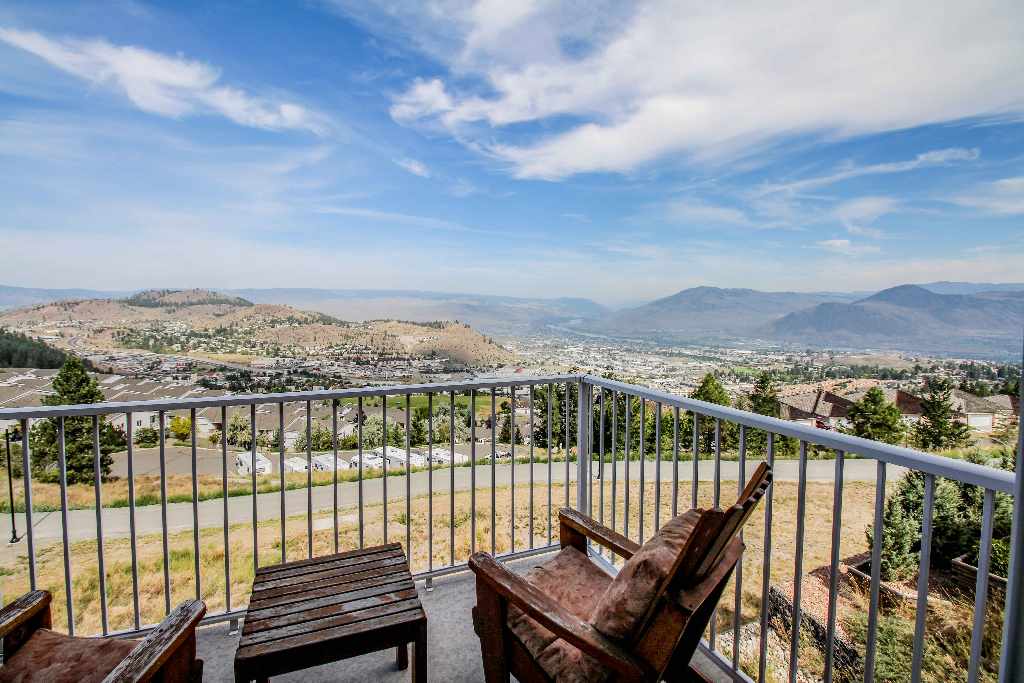 Aberdeen is mostly residential with a few retailers nearby, including Costco and Aberdeen Mall. Roughly a 15-minute drive from the downtown core, it sits conveniently on multiple bus routes. This fast-growing neighbourhood is also home to several parks, Pacific Way Elementary School, Aberdeen Elementary School, and West Highlands Park.
Aberdeen real estate options are quite varied. The area is divided into two parts—upper Aberdeen consists mainly of larger family homes and townhouses, and lower Aberdeen has more condominiums and smaller townhomes. There are plenty of options for households of all sizes in this area!
Aberdeen is a newer area and is still growing, with more residential expansions expected in the future. I recommend this area for growing families, homebuyers looking for a newer home with a great view.
Sahali
Sahali is one of the neighbourhoods in Kamloops that is centrally located and well-established. It's bordered by downtown Kamloops, the south shore of the Thompson River, and Aberdeen. It's also Kamloops's largest neighbourhood and is divided into Upper Sahali and Lower Sahali, separated by the Trans Canada Highway. Knutsford—a rural farming area—is also nearby, just above Sahali to the south.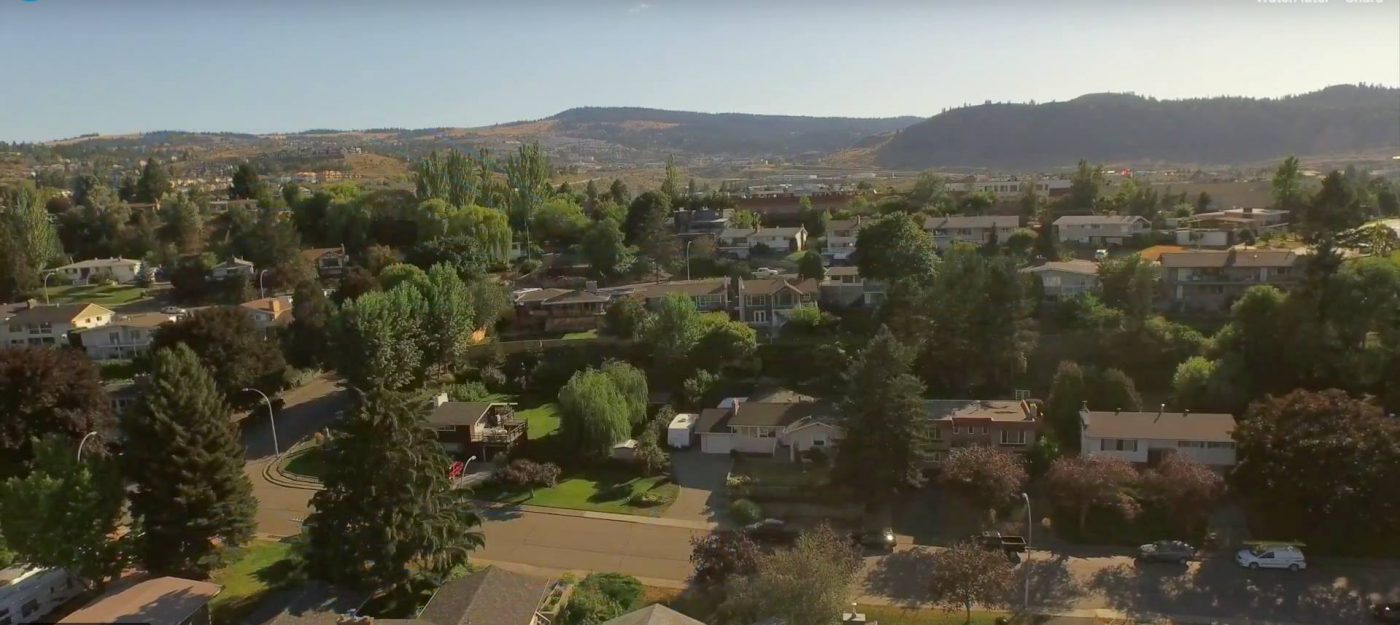 Sahali is conveniently located 5 to 10 minutes from downtown Kamloops, and is home to plenty of amenities and schools including the Tournament Capital Centre, Thompson Rivers University (TRU), Kamloops School of the Arts, Sa-Hali Secondary, Summit Elementary, South Sa-Hali Elementary (a french immersion school), McGowan Elementary, and multiple parks.
Sahali is a slightly older area, but there are many decent-sized lots, some with views. Sahali is also the most expensive area in Kamloops per square foot. I would recommend Sahali real estate to those looking for a family home that's central, with lots to do nearby.
Dallas, Barnhartvale, Campbell Creek, Rivershore,
These neighbourhoods in Kamloops are all in the same general area. Dallas, Barnhartvale, and Campbell Creek are all connected to each other, lengthwise, and Rivershore is just across the river from Dallas.
Dallas is a small neighbourhood located on the eastern side of the city, just off of Highway 1, about 15 minutes from downtown Kamloops. Dallas has a few waterfront properties along the Thompson River, but many of the homes are on the south side of the highway, nestled into the hills. It's home to Dallas Elementary School, a small grocery store and gas station, as well as Tumbleweeds Pub—a popular favourite with locals.
Barnhartvale is a pastoral rural area, dotted with farms and ranches, as well as residential suburbs, and sits up above Dallas. There is also a store and Rovert L. Clemitson Elementary School in this area. I would recommend this area for folks who are looking for a bit more room and bigger yards, who want to be close to, but not in the city. This is also the perfect location for country residential zoning! If you want horses or goats, this is your area.
Campbell Creek is an outlying neighbourhood in Kamloops that sits along Highway 1 and the Thompson River, approximately 5–10 minutes past Dallas. It's the most easterly area of Kamloops, about 25 minutes from downtown Kamloops. Some newer subdivisions have been built in this area recently. It's also near the BC Wildlife Park, a popular Kamloops attraction that I personally love, and all the streets are named after animals. How cute is that?
Rivershore is actually located just outside the city limits to the east and across the river from both Valleyview and Dallas. Rivershore Estates & Golf Links, a bare land strata development with higher-end homes, currently makes up the majority of the residences in Rivershore. However, there are some acreages and waterfront properties along the South Thompson River. Rivershore golf is just a short drive from Harper's Trail Winery and right next door to South Thompson Inn.
While these neighbourhoods are all in close proximity, the real estate options are super diverse! For the most part, these Kamloops neighbourhoods are perfect for those looking for a more quiet and peaceful lifestyle, without being too far away from the action.
North Kamloops (AKA North Shore / The Shore)
North Kamloops is a neighbourhood in Kamloops located in a very central area—just five minutes north of downtown Kamloops, just over the Overlander Bridge. Tranquille Road runs through North Kamloops and is bustling with local businesses and restaurants, a perfect place to spend a day exploring the city! Brocklehurst is also part of this area.
The North Shore is also home to Mcdonald Park, AE Perry Elementary, Arthur Hatton Elementary, NorKam Secondary, and Kamloops Christian School, plus a large beach along the North Thompson River that's perfect for families to enjoy long summer days and for taking dogs for a dip to cool off.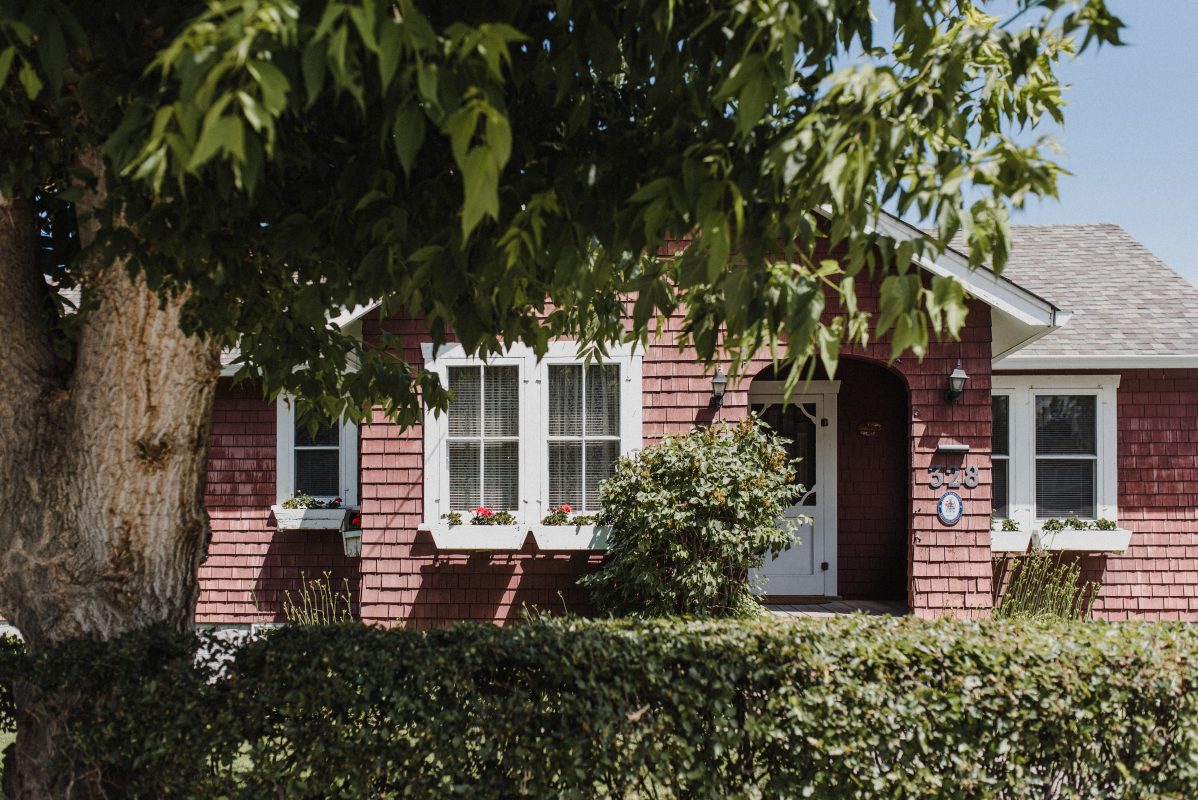 While this area is bursting with amenities, it also has many well-established lots with single family homes, and several new developments popping up. North Kamloops real estate is perfect for homebuyers who like city vibes and being able to walk to amenities. With a recent rebrand to The Shore and new developments on the rise, it's safe to say that this area will continue to grow in popularity in the coming years! In fact, North Kamloops has been the fastest appreciating area in the city for the last five years. It's one of my favourite neighbourhoods in Kamloops.
Downtown Kamloops / South Kamloops / West End
Of course, downtown Kamloops (also known as South Kamloops) is a well-established area of town with plenty of things to do.
Since it's where Kamloops began, it's the oldest area of town and, personally, I love walking around this area and checking out all of the adorable heritage homes (many of which have been restored to their original looks and are truly works of architectural art), mature trees and beautiful gardens!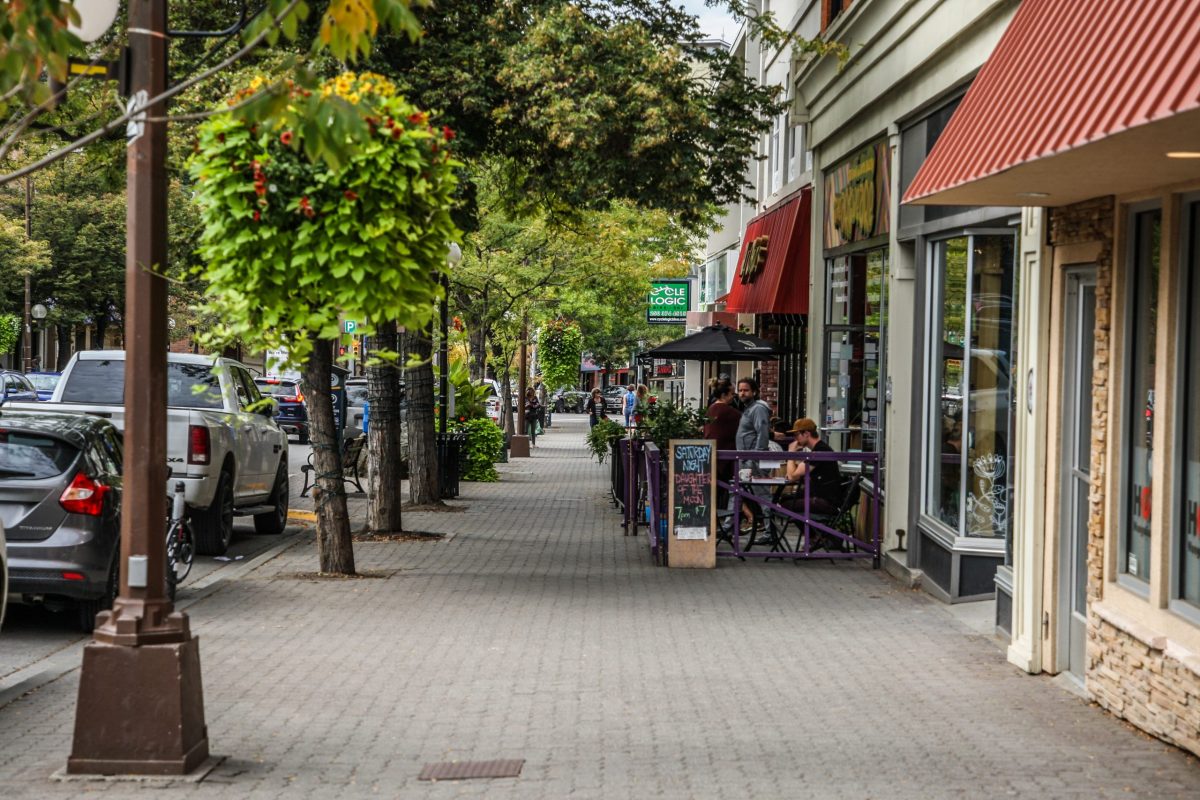 There's no lack of shops, eateries and other amenities in South Kamloops, including Exhibition Park, Memorial Arena, Kamloops Curling Club, Stuart Wood Elementary, St. Anns Academy, South Kamloops Secondary, and plenty of small businesses and parks, such as Riverside Park and Pioneer Park. It's also near the Royal Inland Hospital and City Hall. Both the Wednesday and Saturday farmers markets are here as well!
Valleyview is a neighbourhood just about 5 minutes east of downtown. It's a mostly-residential on valleyview drive, but does have a frontage road along the highway with access to many gas stations, fast food restaurants and grocery stores. On the opposite side of the highway, Valleyview has beautiful riverfront homes, many with their own docs, pools and views of the hoodoos across the water
It's also home to Valleyview Park, Marion Schilling Elementary School, Valleyview Secondary, and Valleyview Arena.
I recommend downtown Kamloops real estate (and real estate in the surrounding areas), to those looking for something with character, or who love being in the middle of the action!
Juniper Ridge sits just above Valleyview, about 10 minutes from downtown. Despite being close to the city centre, Juniper Ridge is a quiet and peaceful neighbourhood, surrounded by nature. It's perfect for hikers and bikers! A mix of older and newer homes can be found here, as well as Juniper Ridge Elementary School, Juniper Ridge Park, a dog park and a downhill mountain bike terrain with shuttle service.
Rosehill is a smaller neighbourhood primarily made up of higher-end homes, surrounded by nature and with the most gorgeous views of the valley and rivers. It's about 15 minutes away from downtown.
I would consider Juniper and Rosehill to be more of a suburb and less centrally located than the rest of the areas in this section.
Westmount, Westsyde, Batchelor Heights, Rayleigh
Another set of different neighbourhoods in the same general area. Westmount leads into Westsyde, and Batchelor Heights is above both. Rayleigh is directly across the river from the tail end of Westsyde.
Westmount is quite established with plenty of single family, older homes. There are also a few townhouse developments and Westmount Elementary. It's roughly 10 minutes from downtown.
Westsyde is roughly 20 minutes away from downtown, on the northernmost end of Kamloops. There are a mix of older homes and new developments in Westsyde, including waterfront homes all along the North Thompson River. It's a bit off the beaten path, but it's still attached to the city and is a popular Kamloops neighbourhood because of its natural beauty and sense of community. Westsyde Pool & Fitness Centre, Arthur Stevenson Elementary, David Thompson Elementary, and Westsyde Secondary can all be found here. They have their own local pub, grocery store and even a petting zoo!
Batchelor Heights is a hillside community, although not quite as elevated as Aberdeen. This area also has a mix of older and newer developments, and many have lovely views of the city. Batchelor Heights is also near Lac Du Bois Grasslands Protected Area—a huge playground for backcountry enthusiasts and mountain bikers. It's roughly 15 minutes away from downtown. Batchelor is also significantly hotter than other areas in the city as it is a full south facing mountain.
Rayleigh is about 20 minutes north of downtown, along Highway 5A. This is also an older neighbourhood consisting of mostly larger lots and some waterfront properties, and it's fantastic for those looking for a peaceful, nature-inspired lifestyle. Rayleigh is also only 25 minutes from Sun Peaks, so it's a perfect place for families who love to ski and snowboard all winter. It's a family-oriented community and Rayleigh Elementary can be found here. Rayleigh is also well known for having pools and shops, and has its own gas station and pub.
There are so many neighbourhoods in Kamloops—each with its own unique attributes and perks—so there is guaranteed to be something for everybody!
Kamloops Real Estate
If you're interested in learning more about the Kamloops real estate market and which area of town would be best for you, I'd be happy to help! Enlisting the help of a Kamloops Realtor who you can trust is the surest way to find the best home for you and your family.
I love this city almost as much as I love helping my clients find their dream home, so if you're looking at homes for sale in Kamloops, let's chat!