The amount of family-friendly activities in Kamloops is definitely one of the many reasons why I love living here!
Plenty of schools, parks, extra-curriculars, and options for family-friendly entertainment make Kamloops an awesome place to raise a family. Not to mention the strong sense of community and general friendliness of the people who live here.
With two little rascals of my own, it's super important that we can find fun stuff to do in Kamloops all year round. Here are a few of my favourite things to do with kids in Kamloops!
Fall and Winter Family Activities in Kamloops
Get festive at a pumpkin patch
Sunset Valley Farms and Tranquille Farm Fresh are both must visits during the fall season! They have awesome pumpkin patches and corn mazes to explore.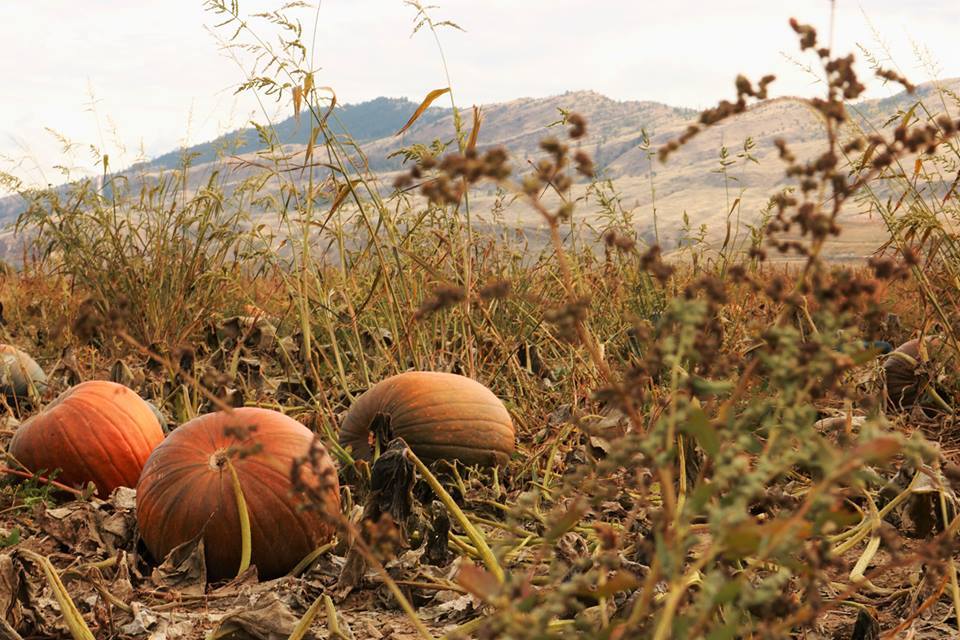 Desert Hills Ranch, an hour away from Kamloops in Ashcroft, also has a pretty incredible pumpkin patch (and cute animals!). What better way to get festive and embrace the fall season?
Play in the snow at Harper Mountain
What kid doesn't love a day of tubing?! Harper Mountain's Snow Town Tube Park is a blast every time. Just purchase your tickets at the lodge and let the adrenaline rush begin! Warm up by the bonfire after with a hot cocoa and you've got the perfect winter day.

Harper Mountain is also a small, family-friendly ski hill with a nice day lodge and 15 runs for all levels of skill, so if the family loves to ski or snowboard, it's an added bonus for everybody!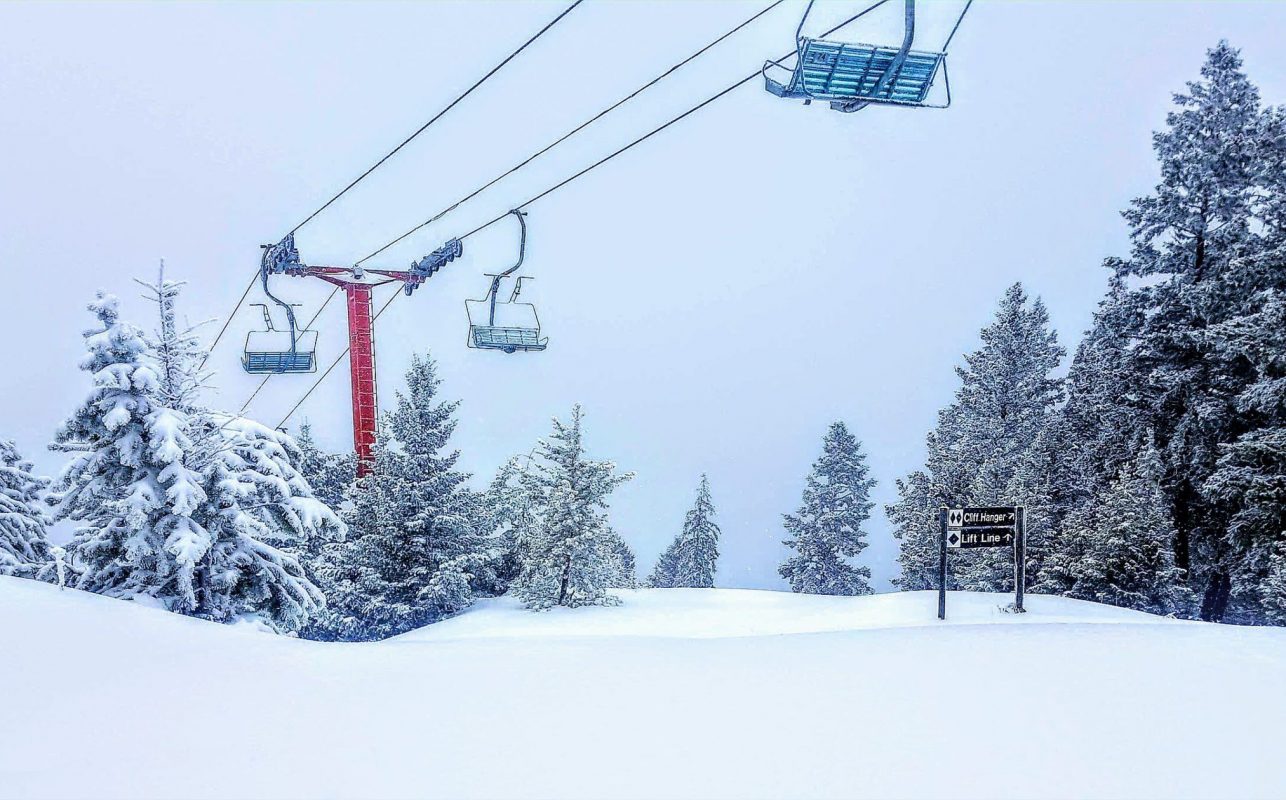 Cheer on the Kamloops Blazers at a hockey game
The Kamloops Blazers season runs from mid-September to late March and it's always a blast. Kamloops loves its sports (we're the Tournament Capital of Canada, after all!) and you can definitely feel that energy and sense of community at a Blazers game.
Grab a bag of popcorn for the kids (and maybe a beer for you) and let the game begin!
Spring and Summer Activities in Kamloops for Families
Visit one of the many parks in Kamloops
No matter what Kamloops neighbourhood you call home, there's bound to be a beautiful park nearby.
Riverside Park in South Kamloops is one of my favourites. Not only is it in a beautiful location right on the river (if you hadn't guessed by the name), but it's decked out with a basketball court, tennis court, pickle ball court, picnic area, playground, and water park. Plus it has restrooms—always a bonus. We also love catching a live show at Music in the Park in the summer.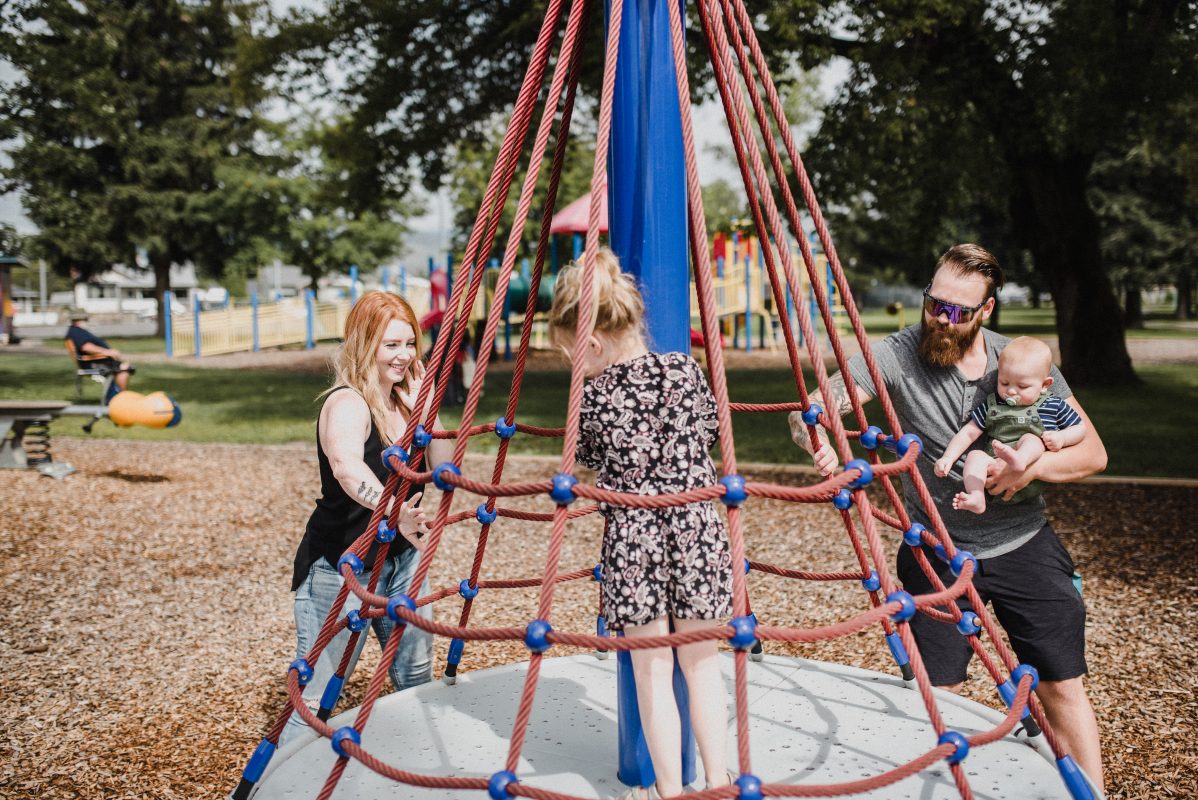 McDonald Park is another great option for families. I especially love that it's dog-friendly and has a water spray park. Seriously, there's something about water parks that keeps kiddos entertained for hours!
If you're looking for something close to downtown, Prince Charles Park is lovely. It has a picnic area, playground, restroom, and a wading pool that's perfect for keeping kiddos cool in the summer.
Another Kamloops water park to add to the list, especially if you're near Sahali or Aberdeen, is Albert Mcgowan Park. It's an award-winning park that also has a community centre, playground, pond, soccer fields, and baseball diamonds. You may even be able to catch a ball game!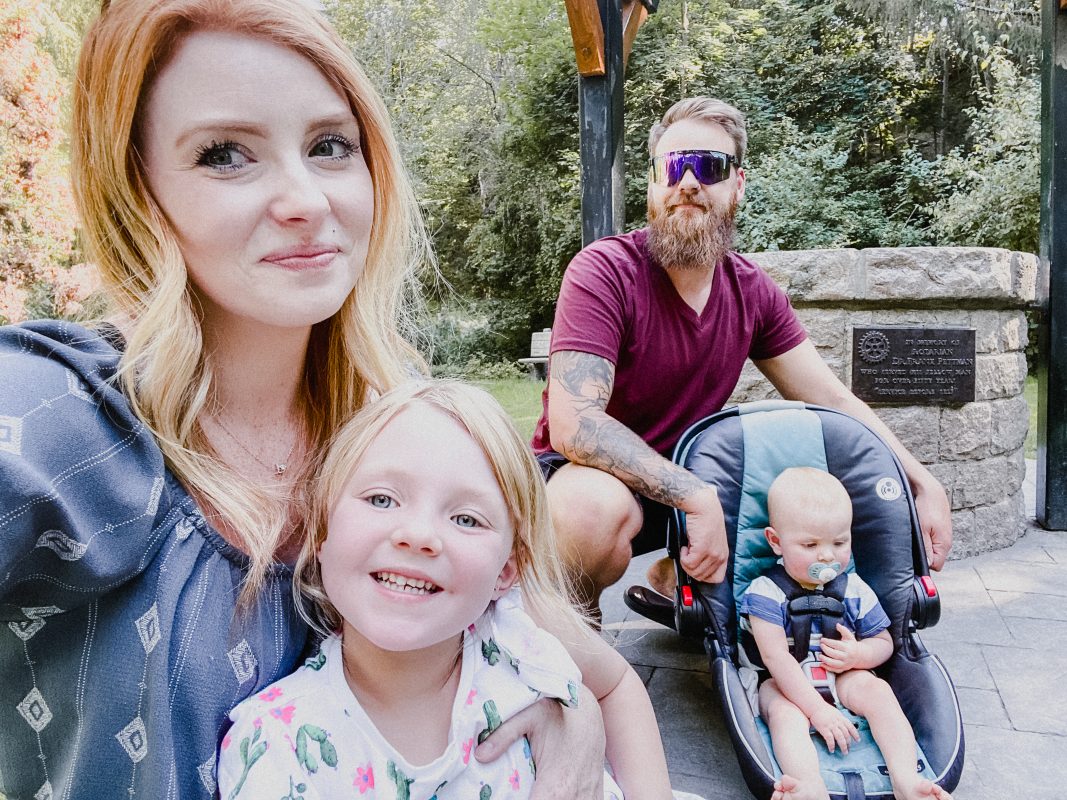 If you're looking to really make a day of it, Wells Gray Provincial Park is about an hour and a half away, in Clearwater. It's a beautiful place to explore with a gorgeous waterfall, and is one of my favourite things to do near Kamloops with the family. It's also just as much fun in the winter as in the summer.
Visit McArthur Island Park
McArthur Island Park needed its own section. It's a hot spot for Kamloops activities, especially if you're interested in getting active and playing some sports.
Bike paths, baseball diamonds, disc golf, lawn bowling, a playground, tennis courts, a skateboard park, an outdoor gym…seriously, this place has it all! There's even a butterfly garden. Yup. If that doesn't sell you on it, I don't know what will.
Support local at the Kamloops Farmers Market
Visiting the Farmers Market is one of my favourite things to do in Kamloops! I love supporting local and teaching my kids about where their food comes from, and the Kamloops Farmers Market is the perfect place to do just that.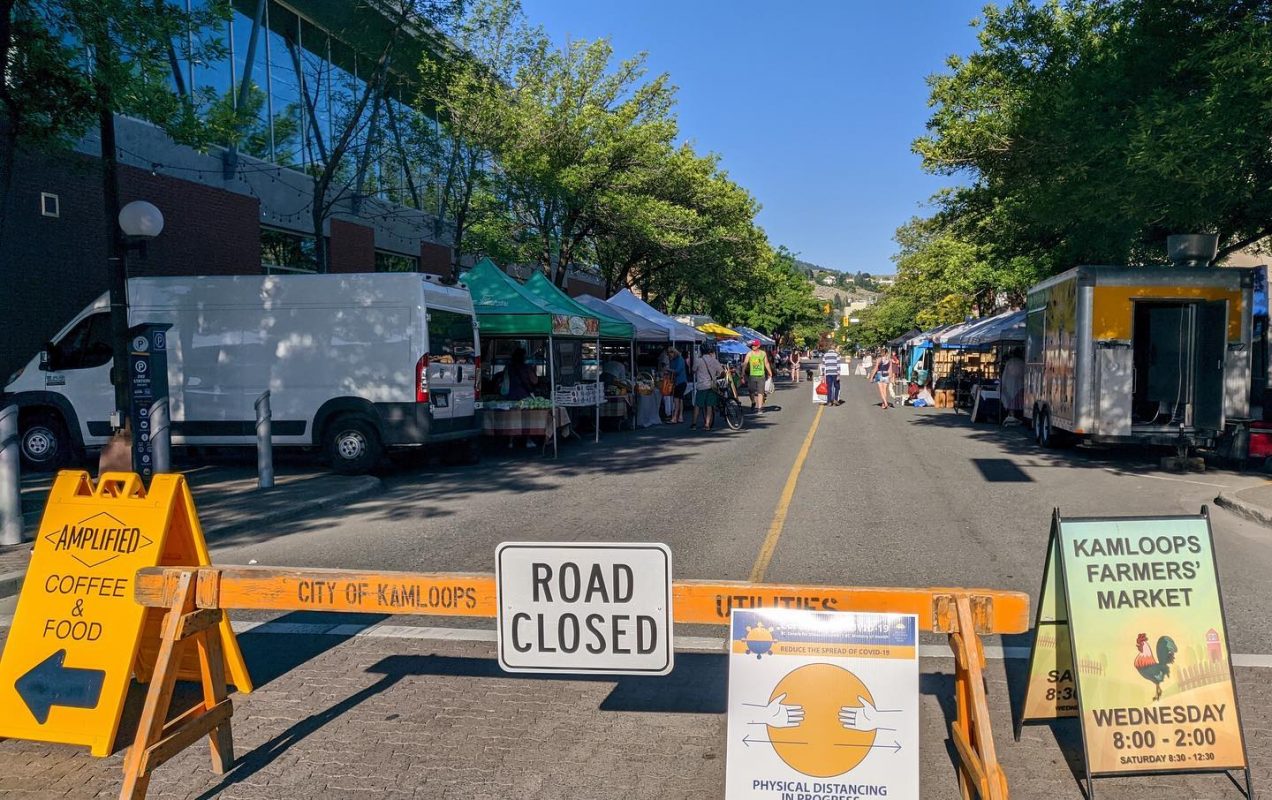 This region is known for its agriculture and there are always plenty of amazing vendors at the market, selling everything from fresh produce to crafts to homemade treats. It's usually open from mid-April until late October.
Grab a tasty treat at Scoopz Ice Cream Parlour
Nothing seems to please young'uns as much as a trip to the ice cream shop. As soon as you mutter the words, "Want to get an ice cream cone?", every other little problem in their lives disappears.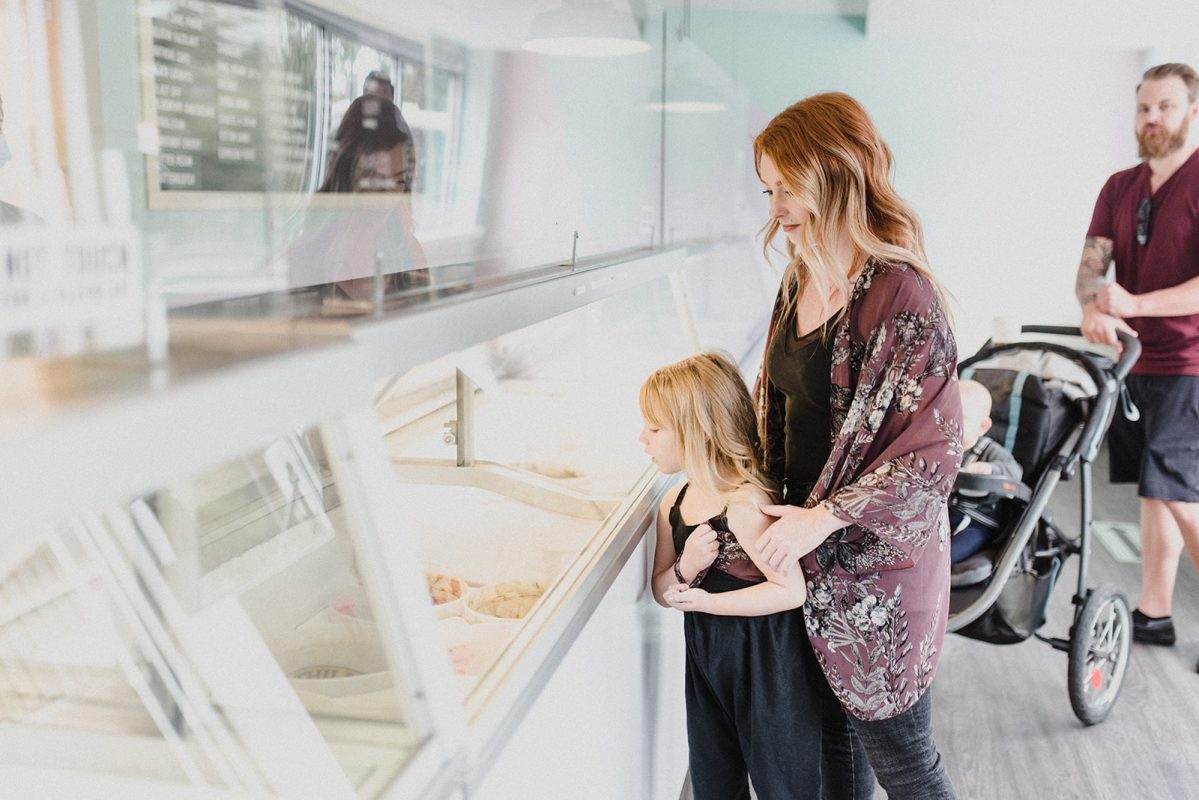 Scoopz Ice Cream Parlour is definitely a summertime favourite here in Kamloops! They have tons of ice cream flavours to choose from, and fancy shmancy treats like milkshakes, floats, banana splits, and sundaes.
They're only open from April to September, so get it while you can!
Year-Round Kamloops Family Fun
Explore at Sun Peaks Resort
Sun Peaks is one of the best places for kids' activities in Kamloops. There are family friendly activities to take advantage of year-round.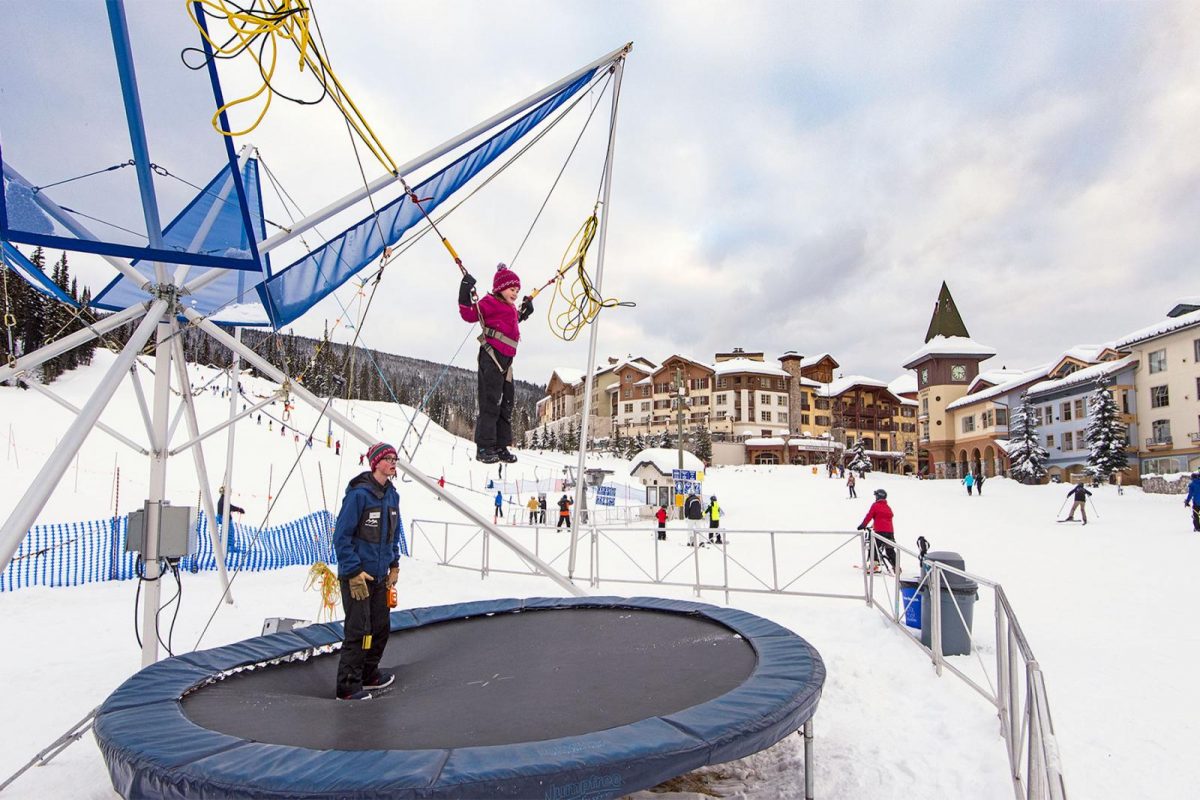 When it comes to winter activities for families in Kamloops, Sun Peaks can't be beat. Skiing, tubing, ice skating, snowshoeing…there's nothing like breathing in that fresh, mountain air while taking in the beautiful snowy scenery and getting some exercise while you're at it! Plus, the village is super cute yet modern and full of amenities (including lots of tasty food options!).
In the summer, Sun Peaks is the perfect place for a day of biking or hiking. It's one of the best Kamloops hikes if you want to catch an amazing view!
Visit the BC Wildlife Park
I'm a huge animal lover, so the fact that there is a place right here in Kamloops where my kids can learn about animals and foster an appreciation for wildlife, is just amazing to me!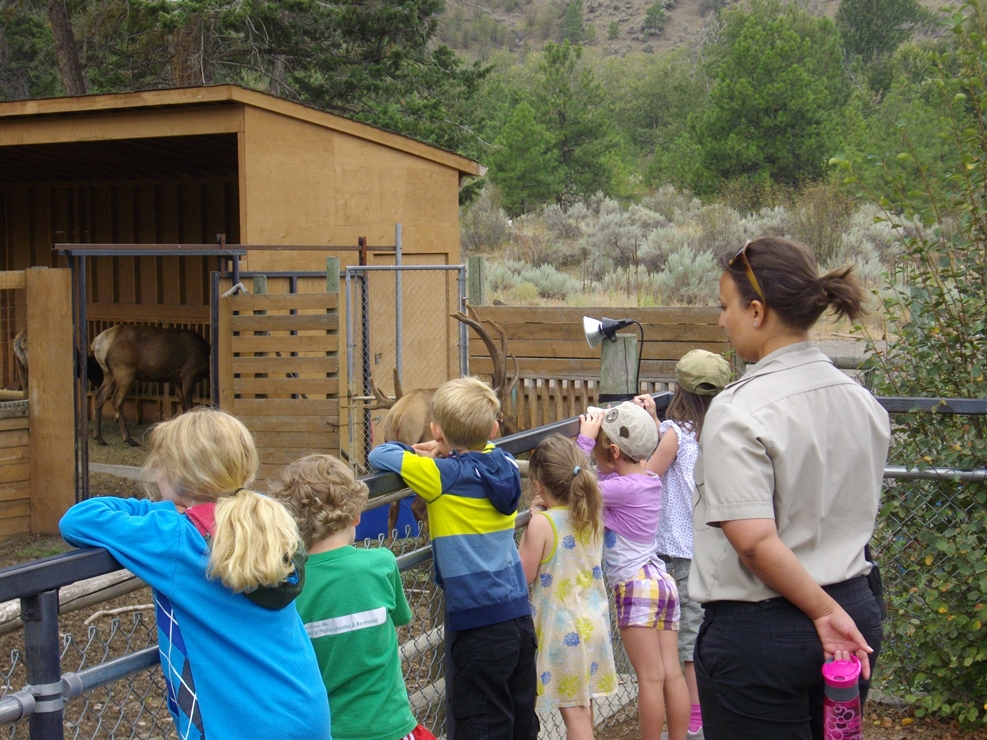 The BC Wildlife Park is a rehabilitation centre and sanctuary for injured and orphaned wildlife. You can find up to 65 different species of animals native to British Columbia at the park, and by visiting, you help to keep the park operating and saving lives.
Kamloops Indoor Activities for Kids
Thrift shop for treasures
I love thrifting, and sometimes I bring my kiddos with me! They're always entertained looking at all the little treasures.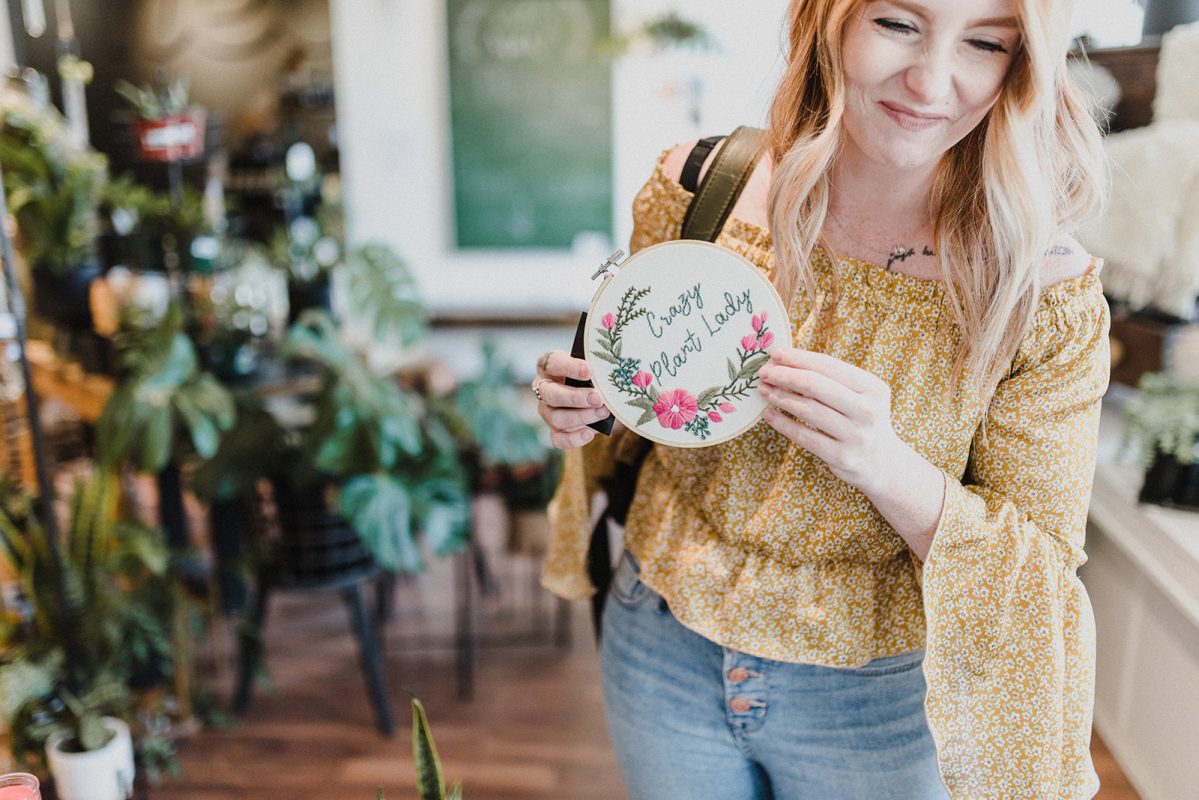 Some popular Kamloops thrift shops include Second Chances, Flutter Buys, Simply the Best, and The Mustard Seed.
Go bowling
A classic family activity! Stop by Falcon Lanes to knock down some pins, and plan your visit on the weekend for cosmic bowling (aka glow-in-the-dark bowling—a kid's dream come true).
Play at Jump 360 Trampoline Park
Jump 360 is a great place to play indoors in Kamloops. From trampolines, to virtual reality games, to kid-friendly food, it's definitely a hit with young and old alike. Jump 360 is also a popular choice for birthday parties and field trips.
Sign up for martial arts classes
If you're looking for a kid-friendly extracurricular activity in Kamloops, why not try martial arts? My daughter has been taking kids' Jiu-Jitsu classes at Boa Martial Arts and she absolutely loves it!
She gets to exercise and socialize while also learning important skills in a safe environment. The instructors are awesome and I can tell my daughter feels a real sense of accomplishment when she achieves something new in her classes!
Make a splash at the Canada Games Aquatic Centre
Located in the Tournament Capital Centre, the Aquatic Centre is a fun place for kids to play regardless of the weather.
What are your go-to family-friendly activities in Kamloops? Let me know in the comments below!
If you're interested in making Kamloops home for you and your family, I would love to help. As a Kamloops REALTOR® , it's my goal to find the perfect property for you and your loved ones. Let's chat and make it happen!